He spilled the whole batch in the lobby, and no one got a bite. But that doesn't mean his famous recipe is gone forever. A clever TikTok-er revealed that Peacock TV's terms and conditions includes Kevin's chili recipe buried in the tiny print as a reward for the very, very small percentage of subscribers who read the details.
Almost No One Reads the Terms and Conditions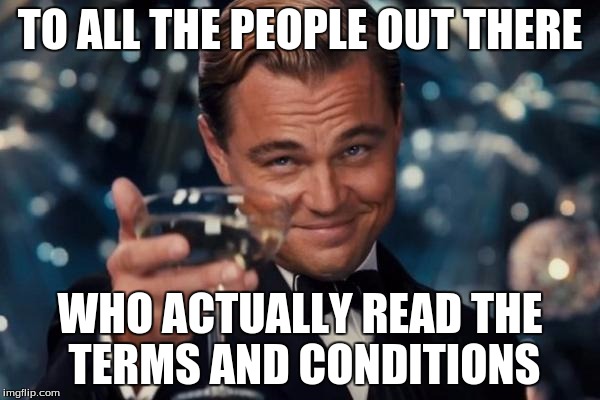 Most apps or services require you to click a box to agree to their terms and conditions for use. You SHOULD be reading the fine print to understand how a company uses your data, what happens if they mess up, what permissions you're giving them when you use their services, etc. But dang! These agreements are loooonnng, and they're full of legal jargon, verbose gobbledygook, and incomprehensible babble.
According to a 2017 survey by Deloitte, 91% admit to clicking without reading… (97% of people 18-34!). You notice I said 91% admit to not reading… I'm almost 100% positive that the number is much closer to 100%.
This Site Will Read Them for You
Bookmark this site: ToC;DR. It stands for Terms of Service; Didn't Read, a play on TL;DR (too long; didn't read). ToC;DR exists because the kind nerds who run it know:
that we won't read the terms and conditions, and
that we NEED to read the terms and conditions.
Then they assign grades so you can quickly see the worst offenders (we're looking at you, Facebook).
Get Terms and Conditions Analyses Everywhere You Go
ToC;DR has a browser add-on that lets you see the comprehensible version of terms and conditions of sites that they've analyzed. On Chrome, you'll get a little warning if the ToC is particularly heinous.